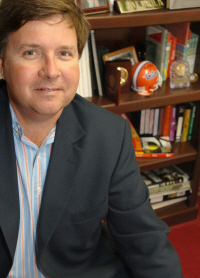 John F. Murray, Ph.D. is a licensed clinical and sports psychologist in Florida. He conducted his doctoral dissertation on the 1996 national champion University of Florida Gators football team where he achieved two masters degrees and a Ph.D. before completing an internship at Washington State University and a postdoctoral fellowship at Florida International University. He works with NFL, college and high school football players along with athletes and teams in a variety of other sports. He created the Mental Performance Index (MPI) in 2003 to help football teams better understand team performance including for mental factors. He is frequently called on by the media to comment on issues related to sports psychology and football and was dubbed "The Freud of Football" by the Washington Post. He has been on national television and radio many times. Dr. Murray has been in private practice in Palm Beach, Florida since 1999 and will travel to client locations, work with clients on the phone, as well as seeing them in the office. His unique approach is based on solid research as well as experience. He loves helping athletes and teams improve and will teach your players what they need to know to be the best they can be mentally.
You don't need a special psychologist to figure out how to win at an
online casino
. All you need is a
casino bonus
from Casino Bellini!